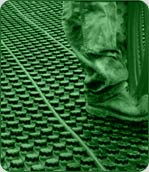 Product and Ordering Information
RAZ Panel™ Information
The Raz Panel insulated floor panel system from EZ Floor, Inc. is insulation, vapor barrier and Pex tube fastener all in one. An easy three-step installation means you could save up to 66% of the insulation cost on energy efficient in-floor radiant heat!





2" Grid for 1/2", 5/8" or 3/4" Pex tubing

Board Size
25" x 49"
Effective Area
24" x 48"
Nominal Thickness of Insulation
1" or 2"
Total Thickness
1 7/8" or 2 7/8"
Color
Varies
Thermal Resistance (ASTM C518-04)
R-5.9, R-11.9
Compressive Resistance (ASTM C165-00)
430-860 psf
Perm Resistance (ASTM E96-00)
.56 perms
WI Building Products Evaluation Number
200521-1

All product testing was conducted by Intertek ETL Semko, an independent testing lab. All tests were performed in accordance with ASTM C518-04 "Standard Specification for Rigid Cellular Polystyrene Thermal Insulation" modified to assess the flooring panels as an entire entity and not just the rigid, cellular polystyrene thermal insulation.
Ordering and Shipping RAZ Panels™
The RAZ Panels™ come shipped in bundles of 10 panels. The dimensions of the bundles are 24.75" high x 25.25" wide x 49.25" long and weigh approximately 31 pounds.
176 bundles will fit on a truck which provides 1760 panels or 14,080 square feet of product. That is enough for roughly seven homes of 2000 square feet. Panels are sold in complete bundle quantities only. To arrive at the quantity require for a particular order or job simply divide the square footage needed by 80. There are 80 square feet of product in each bundle.
For example: 2500 / 80 = 31.25 bundles. Then simply round up to the next whole bundle or in this case, 32, and with a waste factor of about 1% that is what you will need to order for the 2500 square foot project.